@ Work MOGUL MAINTENANCE

the STAR STYLIST | MY MORNING ROUTINE
JENNIFER RADE
Costume designer and stylist Jennifer Rade dresses everyone from Angelina Jolie to Caitlyn Jenner.
"Every day is different," says the L.A.-based Rade. "I could be working on a music video, television series,
or ad campaign, or pulling red-carpet gowns."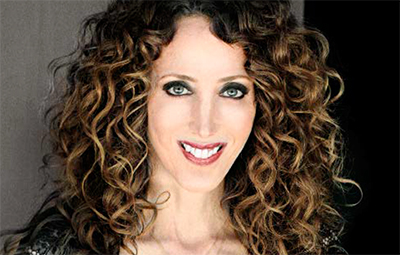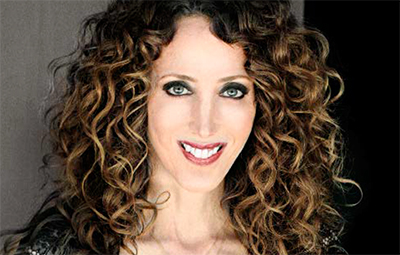 8:30 AM WAKE-UP
SHOWERING FIRST THING wakes me up. Besides, I have to wet my curly hair every morning to restyle it; otherwise, it's a dreadlock-y mess—like my hair went clubbing while I was asleep! I use Wen Fig Cleansing Conditioner (4) to keep  it hydrated and tamed.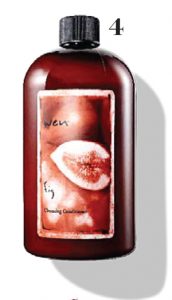 8:50AM
I wrap my hair in a microfiber towel, then put on my facial moisturizers: Trina Reneá Red  Tea Moisture Boost hydrating serum, followed by her 24/7 Defense (2), which looks like  carrot juice and is packed with antioxidants. Over that, I apply  Dr. Lancer's The Method: Nourish Sensitive Skin cream.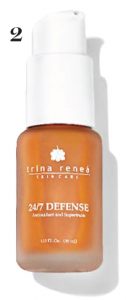 9AM
I scrunch a handful of Tresemmé Tres Extra-Firm Control Mousse through my hair to bring out my curls and then dry it with a diffuser attachment, which takes a solid 20 minutes. After that, I use an Enzo Milano curling wand to define some of the coils in the top layer and spray the whole thing with John Frieda Frizz Ease Firm Hold Hairspray.
9:30AM
I love a smoky eye. I use MAC Eye Kohl in Smolder, then smudge on MAC Eye Shadow in Concrete (1), followed by a coat of mascara. I don't wear foundation, but I blend IT Cosmetics No. 50 Serum with  its Bye Bye Redness Neutralizing Correcting Cream (3) and apply it wherever I get red. For just enough lipcolor, I dab on Korres' tinted Lip Butter (5).


9:45AM
Before I head out, I usually make a quesadilla with  scrambled eggs and cheese, and a ton of sour cream and 6 hot sauce.
NECESSARY INDULGENCES
SOFT TOUCH
My skin is extremely sensitive, so I swear  by natural, gentle products like Mariana Chicet Wild Honey Body & Hand Soap, Éminence Organics Calm Skin Chamomile facial cleanser, and Epicuren Fresh Unscented After  Bath Moisturizer  body lotion.
SIGNATURE SCENT
I always have a roll-on bottle of Sage Pearl Perfume Oil (6) in my bag. Everyone tells me that I smell delicious, and this vanilla- musk-sandalwood blend is my secret.


TEA TIME
I don't drink coffee, but I sip Teas' Tea Unsweetened  Pure Green Tea throughout the day; it's so refreshing.  I have cases of the stuff delivered via Amazon Prime  every month.
Products Above: 1. MAC Eye Shadow in Concrete, $16. 2. TRINA RENEÁ SKINCARE 24/7 Defense, $72. 3. IT COSMETICS Bye Bye Redness Neutralizing Correcting Cream, $32. 4. WEN Fig Cleansing Conditioner, $32. 5. KORRES Lip Butter in Wild Rose, $12. 6. SAGE Pearl Perfume Oil, $45.
View PDF: http://www.facialbungalow.com/wp-content/uploads/2016/01/MogulMaintenance.pdf