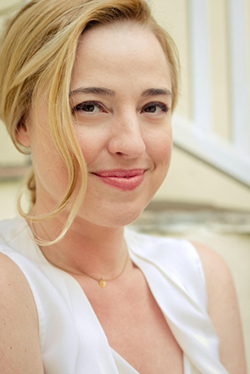 Trina Renea started her first career in Los Angeles as a singer in a punk rock band, entertaining fans around the world. Trina's band Lo-Ball was a success for Interscope records in the early 2000's. After a world tour and post 9-11 USO tour in the middle east the band decided to go their separate ways.
In 2004 Trina started a new chapter in her life. She became an Esthetician and opened her own spa. Coming from the world of music and entertainment, she understands the importance of maintaining beautiful skin. She is passionate about the world of skincare and enjoys helping her clients gain knowledge on a perfect homecare regimen.
Trina has a passion for cosmetic chemistry and product knowledge and has worked for years on developing her own skincare line. She has worked with some of the best chemists in the United States to create her new line "Trina Renea Skincare".
With special skin care techniques and nearly a decade as lead medical esthetician formerly at Rapaport Dermatology, Trina, owner of the Facial Bungalow has developed a personal and particular style that put her on the leading edge of the skin care industry. She is referred to today as a "skin master".
Trina Renea has been working in the field of health and beauty for over 15 years. In addition to being owner of the Facial Bungalow, Trina also worked for 8 years with The Rapaport Dermatology Group in Beverly Hills. Trina has extensive training and specializes in acne and anti-aging procedures, using the top medical-grade peels, microdermabrasion and her special machine to help with tightening and plumping for a flawless finish, the only one of its kind in the US. Trina consistently attends medical seminars, scientific skin care conferences and is a member of the Society of Cosmetic Chemistry. She also takes intensive training at UCLA for Cosmetic Chemistry. She observes Dermatologists and Plastic Surgeons all over the city so that she may offer her patients information on the latest trends and techniques. Trina Renea also has her own clinical product line of products available exclusively at the Facial Bungalow and online at facialbungalow.com. A percentage of sales from Trina Renea Skincare is donated to local non-profits each with a relevance and meaning to Trina.
Education:
Graduate of Marinello Schools of Beauty for Esthetics 2004
Post Graduate 120 hours at The Dermal Institute
Post Graduate 60 hours Aesthetics International
Cosmetic Chemistry – UCLA Extention with Rebecca Gadberry 2009, 2011, 2013
Continued Education 8-16 hours per month
Observe and refer to Dr Alexander Rivkin, Dr. Rebecca Fitzgerald, Dr. Louis Acosta, Dr. John Joseph, Dr. Vicki Rapaport
Member of the Society of Cosmetic Chemists, SCC since 2009
Owner of the Facial Bungalow 2004 – present
Worked as lead medical esthetician at Rapaport Dermatology performing acne surgery 2006 – 2013
Esthetician Coach and educational trainer for extractions and consultations.
Owner of Trina Renea Skincare since 2009
The other day i recieved the BEST facial, at Facial Bungalow, by Trina Renea…She is so passionate about skin care, and takes it very seriously. Her products are amazing, and the salon is incredible!!! So relaxing, I nearly fell asleep! Not to mention my skin was glowing for days after. Bless her soul!! Thank you Trina!!
—Jennifer Lindberg, Band – Warpaint
Trina is a terrific esthetician with an exceptional attention to detail. Her knowledge and skills are perfect for healing the skin and she made the whole experience comfortable and relaxing.
—Brent Sexton, Actor – "The Killing"
The machine was amazing! I had an event to go to, so we decided it was time to unveil Trina's secret weapon. My skin has never looked better. My make-up artist kept commenting on how beautiful my skin was and ended up putting only a minimal amount of concealer to let the my "flawless" skin show. Any time I have something important, I'm going to Trina for the "machine".
—Kiele Sanchez, Actress – "The Glades" and "Samantha Who"
Trina and her recommended daily routine is the secret to how I keep my skin looking FRESH and YOUNG!!! HUGE fan of Trina and Facial Bungalow.
—Jen Slimko, Actress